Experienced Leadership. Deep Market Experience.
Ares Commercial Real Estate Corporation ("ACRE") (NYSE: ACRE) is a Real Estate Investment Trust managed by Ares Commercial Real Estate Management LLC ("ACREM"), a subsidiary of Ares Management Corporation (NYSE: ARES) ("Ares") a leading global alternative investment manager with approximately $395 billion of assets under management ("AUM").(1) ACREM is able to leverage the power of the Ares investment platform to obtain incremental deal flow and market intelligence from Ares' broader resources, relationships, and significant capital markets and research experience.
---
ACRE provides an experienced leadership team, deep market experience, a disciplined approach and the ability to leverage the strength of the Ares platform seeking to effectively capitalize on opportunities across real estate debt investing.
Our flexibility, structuring experience and self-origination capabilities enable us to invest across the capital structure in an effort to meet the full spectrum of our clients' financing needs. As a patient investor with permanent capital, we seek to provide flexible solutions with a view toward enhancing the certainty of execution for our clients.
We actively monitor and manage our investments from origination to payment or maturity, which allows us the ability to appropriately assess and manage the
risk in our portfolio, build and maintain strong relationships with borrowers and their sponsors, control costs and help ensure operational control over our investments. Our life of loan philosophy and active asset management capabilities are enhanced by ACREM's special servicer, Ares Commercial Real Estate Servicer LLC.
---
ACRE is led by partners, managing directors as well as investment committee members that have approximately 26 years of relevant middle-market commercial real estate lending and finance experience.
Our Investment Approach
Our investment professionals are product and property type generalists who invest in a range of commercial real estate assets. Our investment strategy relies heavily on:
Intensive due diligence
Structuring experience
Disciplined underwriting
Active portfolio management, including monitoring to help ensure operational control and to be a value-added partner to our borrowers and sponsors
We also selectively consider third-party-led senior and subordinate debt financings, review portfolio purchases and opportunistically consider the purchase of stressed and discounted debt positions.
Our Channels and Partners
Financial Sponsors / Operating Partners
We directly cover financial sponsors and local operating partners and commit senior debt and subordinate debt to finance sponsor acquisitions or recapitalize portfolio assets.
Direct Investments
We cover key intermediaries in the commercial real estate arena, including mortgage brokerage firms, investment sales groups, and other real estate advisory platforms.
Capital Markets
We underwrite and invest in primary and secondary market debt investments arranged by commercial and investment banks and other middle-market lenders.
Image

Our Investments
Types of Investments:
Senior Mortgage Loans
Subordinated Debt
Mezzanine Loans
Other Commercial Real Estate and Preferred Equity Investments
Transaction Types:
Acquisition
Recapitalization
Restructuring
General Refinancing
Construction
Target Investment Characteristics(2):
Asset values of $10-250 million
Attraction basis with above-average supply/ demand dynamics
Solid credit fundamentals
Strong market position with a competitive economic advantage
Experienced sponsors with deep property and local market experience
Appropriately structured and documented investments
Return opportunity that compensates for perceived risk
Sectors We Invest In:
Primary Property Type
Multifamily
Office
Self-Storage
Industrial
Mixed-Use
Property Types We Selectively Consider
Hospitality
Retail
Medical Office
Single-Tenant/Owner-Occupied
Specialty Use
Student Housing
Potential Benefits to Investors, Portfolio Companies and Financial Sponsors
For Investors:
Potential returns to shareholders (in the form of dividends), primarily generated through net interest income resulting from investments⁽³⁾
Dedicated and experienced professionals
Access to relationships, market intelligence, deal flow, research, infrastructure, due diligence and experience of the broader Ares Management Corporation platform
Long-term and short-term strategies focused on maximizing relative value through economic cycles
Multi-asset class track record and experience (senior debt, subordinate capital, preferred equity)
Disciplined growth with a focus on long-term value creation and capital preservation
For Owner/Operators and Financial Sponsors:
Long-term patient investor with permanent capital
Flexible and creative structures with ability to meet financing needs
Active in all market environments
Ability to grow capital base with clients' needs over time
Execution speed
Enhanced certainty of closing
Significant resources and managerial assistance
Deep industry relationships
Origination Infrastructure
Image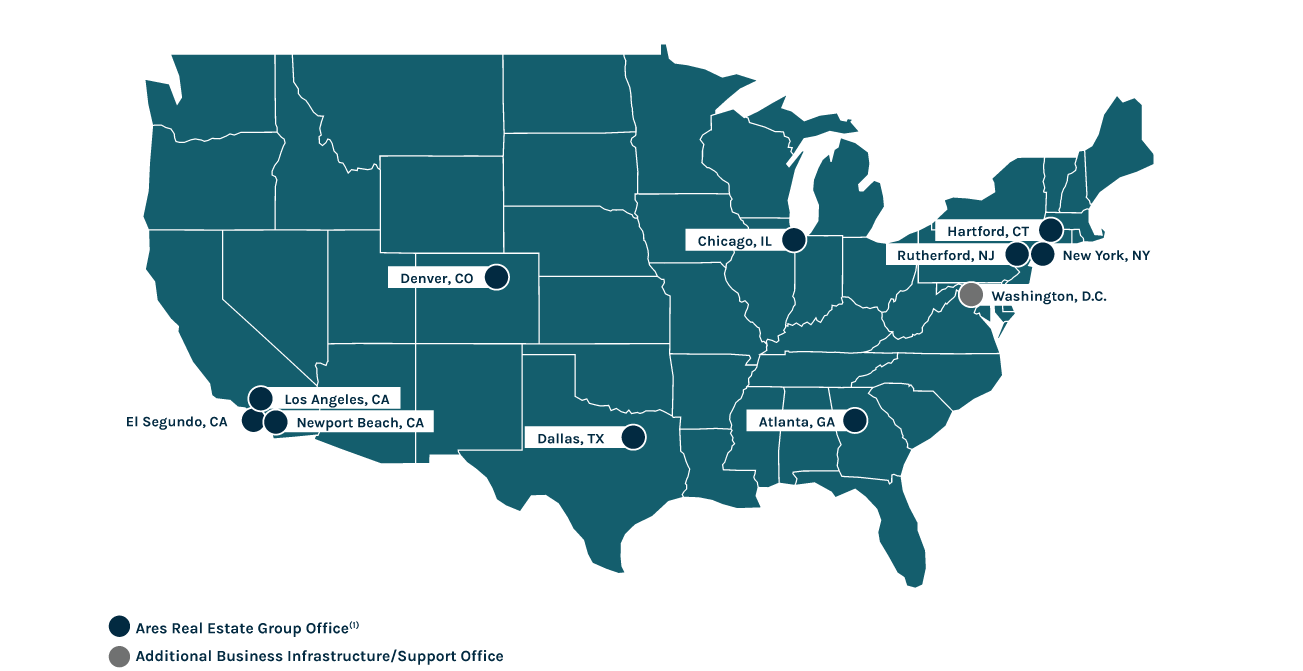 *As of September 30, 2023
(1) Includes Ares Management Corporation ("ARES") principal and originating offices where real estate activities take place.
Image

1. As of September 30, 2023. AUM amounts include funds managed by Ivy Hill Asset Management, LP., a wholly owned portfolio company of Ares Capital Corporation and registered investment adviser.
2. Not every investment meets each of the below criteria.
3. There is no guarantee that dividends will be paid as expected or at all. Diversification does not assure profit or protect against market loss.